About Us!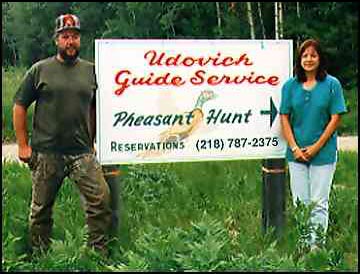 Dennis & Mimi Udovich


Dennis and Mimi Udovich, your hosts, and owners of Udovich Guide Service will provide you with a memorable hunting adventure whether your interest lies in whitetail, bear or pheasant hunting. With over 30 years of guiding experience and 1500 acres of private land they are able to offer experience, quality and success.

Dennis began hunting as soon as he could carry a gun. An avid whitetail hunter, it was a natural fit when in 1979 a group of deer hunters needed a guide. A career was born. In 1981, after apprenticing with master guide Gordy Swensen, Dennis began taking bear hunters and from there it was a natural progression into the pheasant preserve business. Providing a quality hunt comes easy since guiding is their only business.

Dennis and Mimi invite you to come and experience a hunt that you'll be talking about all year.






Udovich Guide Service
12545 Willow River Rd

Greaney, MN 55771
(218) 787-2375
e-mail